Astronomy
The Institute of Astronomy carries out teaching and research in the fields of theoretical and observational astronomy. A wide class of theoretical problems are studied, ranging from models of quasars and of the evolution of the universe, through to theories of the formation and evolution of galaxies and stars, X-ray sources and black holes.
Much observational work centres around the use by staff of large telescopes abroad and in space to study quasars, galaxies and the chemical constitution of stars. A programme on the velocities of stars is conducted using the 36-inch telescope in Cambridge. Instrumentation development is also an important area of activity, involving charge coupled devices and detector arrays for rapid recording of very faint light and the design and construction of novel spectrographs.
Contact us
To discuss your philanthropic goals or explore opportunities for collaborative investment, please contact me.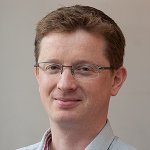 Senior Associate Director - Physical Sciences
glen.whitehead@admin.cam.ac.uk
+44 (0)1223 330112 or mobile: +44 (0)7711 500332