Creative collaborations curing disease
Our researchers are collaborating across disciplines to find solutions for the health challenges facing humanity today – such as dementia, infectious disease and cancer.
Some of these collaborative partnerships are, on the face of it, pretty unlikely. Like that between Dr Nic Walton, an astronomer, and Professor Carlos Caldas, a leading breast cancer researcher.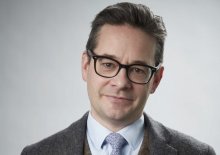 Man on a mission to beat cancer
Thirty years ago, Professor Richard Gilbertson pledged to implement a 15 per cent reduction in mortality from children's brain cancer. This is the story of what happened next.
On the children's ward at Newcastle General Hospital in 1986, medical student Richard Gilbertson got his first taste of life as a paediatric oncologist. He looked around the ward and saw a child in a bed, in a dark corner. "She has a medulloblastoma that has returned," the consultant said.
"What can we do for her?" asked Gilbertson, who had been fascinated by medulloblastomas – one of the commonest malignant brain tumours in children – since his first year of medicine, when he was randomly assigned to do a project on them. "Nothing," the consultant replied. "The only thing we can do is let her die in peace."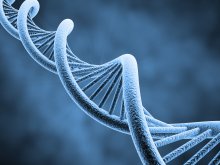 Making sense of cancer's 'big data' problem to revolutionise patient care
A new institute at the University of Cambridge aims to revolutionise cancer care by using cutting edge analytics to maximize the use of big data sets collected from patients.
The Mark Foundation Institute for Integrated Cancer Medicine, announced today, will be funded by an £8.6 million award to the University of Cambridge from The Mark Foundation for Cancer Research – the first time that the New York-based philanthropic organisation has made an award to a UK institution.
The virtual institute aims to exploit recent advances in big data processing and machine learning to capture and integrate clinical, genomic, and image data collated from hundreds of cancer patients in real-time. Laboratory and clinic-based researchers and data experts will work together to determine whether sophisticated computational integration of all these diverse data types into a single platform can inform and predict the best treatment decisions
for each individual patient.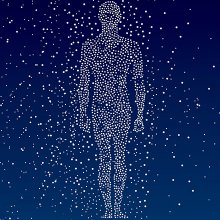 The unexpected link between astronomy and cancer research
Dr Walton explains: "Both astronomy and cell biology deal with huge numbers. Our Milky Way contains several hundred billion stars, our bodies tens of trillions of cells."
Both also have to analyse incredibly complex images, though at opposite ends of the scale. Working together the pair found that algorithms used to study pictures taken by the Gaia satellite, a billion pixel camera located in space, have direct application in the analysis of tumour samples.
This new technology will greatly increase the pace of progress in cancer research. Professor Caldas also believes that in the future it could be used as 'digital pathology', aiding diagnosis and prognosis even in regions with no specialist oncologists.
He explains: "You could imagine a scenario where a clinician takes a biopsy and a pathologist processes and stains the slide, takes a picture and digitally relays it. This is then analysed by one of the algorithms to say if it is a tumour, identify the tumour type and say how aggressive it will be."
This 'multidisciplinary' approach to medical research is one reason why Cambridge has become home to a concentration of over 7,000 health experts - the largest in Europe. At any one time we have over 1,000 clinical trials taking place.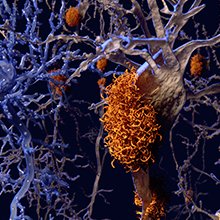 Discovering key causes of Alzheimer's disease
There are more than 46 million Alzheimer's sufferers in the world. New and collaborative ways of thinking are crucial in the effort to decrease this number.
Collaborations between chemistry and Alzheimer's researchers have discovered the key causes of the disease. By studying the molecular processes of Alzheimer's, the research team assembled a wealth of data that enabled them to better understand the progression of the disease.
The search for these molecules is the starting point for the development of highly targeted future therapies.
Growing our creative health partnerships
With your help we can create exciting new partnerships that transform lives across the world—from cancer, to dementia, to infectious disease. As one of Cambridge's highest priorities for investment, we have funding opportunities across the University that will enable creative partnerships:
£10 million will fund creative health research
£2 million will create a PhD programme in multi-disciplinary health
Next steps
Make a gift now
To make a gift to Clinical Medicine using a credit or debit card
Find out about other ways to give.
Related impact stories
Philanthropic giving is at the heart of the success of the Collegiate University, enabling us to make discoveries that change the world and to ensure that our students received an unrivalled education.