Saving our planet's biodiversity, for the world
Biodiversity loss is more rapid and more widespread than at any other time in human history. Extinction continues at up to 1,000 times or more the natural rate, and threatens 35% of species.
Yet nature provides significant value to people; protecting our climate, providing medicines and food and helping to minimise natural disasters.
Radical and innovative approaches to address unprecedented loss
The Cambridge Conservation Initiative (CCI) seeks to integrate research, education, policy and practice to create innovative solutions for society and to foster conservation learning and leadership.
Founded in 2007, CCI is a collaboration between nine leading international biodiversity conservation organisations and The University of Cambridge. Each group has its own active conservation programme, but through taking collective action to meet shared goals, the individual impact of each organisation on the ground is strengthened.
This is a pivotal moment in CCI's history as its partners celebrate moving to a new conservation campus in the heart of Cambridge – the David Attenborough Building – named in recognition of Sir David's pioneering work in bringing the wonders of the natural world to a global audience.
The campus acts as a centre for the Cambridge conservation 'cluster' and is the largest grouping of nature conservation organisations and university researchers in the world. It now houses over 500 conservation experts, including 150 academics from the University of Cambridge and over 350 conservation practitioners from CCI's conservation organisation partners. Over the coming years these individuals will be working together, using the campus as a hub, to develop effective solutions to the challenges faced by the natural world, such as developing new guidance on conservation issues for policy makers, seeking novel methods of communicating the importance of our natural world, and producing innovative ways of protecting species and habitats around the world.
Joining together to halt the destruction of ecosystems
By strategically joining together in the CCI hub, we can tackle challenges to biodiversity and the wealth of 'natural capital' it represents, in ways that cannot be achieved by any one partner alone.
Academic research and on-the-ground practical conservation will converge to yield transformational approaches which will halt the destruction of the Earth's ecosystems. 
CCI is uniquely placed to feed new thinking and training into worldwide conservation practice and policy through the partner conservation organisations and their networks. Similarly the experience, knowledge and information from on-the-ground implementation of policy and practice will be fed into CCI's research and teaching.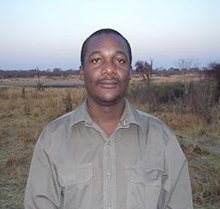 Meet Godfrey Mtare, Cambridge graduate and conservation leader
Godfrey Mtare worked as an ecologist at Zimbabwe's Parks and Wildlife Management Authority before enrolling on the CCI's Conservation Leadership Masters programme. The opportunity to develop effective leadership skills and build on his existing experience attracted him to the programme.
Since graduation, Godfrey has been appointed the Country Representative for Zimbabwe in the Kavango-Zambezi Transfrontier Conservation Area, the largest one in the world. He says: 'This new role has provided me with such a strong foundation and has given me an incredible experience and necessary exposure to the challenges of cross-border conservation. Many aspects of my new job require strong leadership, and I am very excited to be putting into practice many of the skills I learnt whilst on the course.'
How you can help protect biodiversity
The individual skills, networks and co-location of 500 conservation researchers and practitioners will provide a foundation upon which an internationally renowned centre of excellence will be built.
£18 million will support a suite of lectureships, each of which will teach, research and promote conservation and sustainability, and who in combination will transform conservation
£5 million will fund seed grants for innovative conservation projects
£2.5 million will endow a Professorship in Natural Capital
Next steps
Associate Director - Cambridge Conservation Initiative
+44 (0)1223 330910
Make a gift now
To make a gift to Cambridge Conservation Initiative (CCI) using a credit or debit card
Find out about other ways to give.
Related impact stories
Philanthropic giving is at the heart of the success of the Collegiate University, enabling us to make discoveries that change the world and to ensure that our students received an unrivalled education.