Anticipating and preventing disease
The combined cost of obesity, heart disease and diabetes to the British National Health Service is £40.4 billion per year. Depression costs £520 million to treat each year, whilst placing an £8.9 billion burden on the economy. It is thought that 23% of all deaths registered in England and Wales in 2012 were from potentially avoidable causes.
Early diagnosis of these chronic conditions could save and improve lives, and also ease their economic and emotional burdens.
Cambridge academics are developing new ways of anticipating disease and delaying its onset.  We are working towards preventive solutions for the world's major health challenges – including heart disease, cancers and mental health.
Targeted, precise treatments
For example, by working with genomics we can understand the foundations of disease and create targeted and precise treatments. Cambridge scientists are leading the '100,000 Genomes Project', a component of the largest international collaboration ever undertaken to sequence the human genome. Our project starts by focusing on patients with rare diseases and cancers, since these conditions are strongly linked to changes in the genome.
This innovative project has the potential to create a huge genomic data repository which researchers and healthcare professionals across the country can access. Harnessing the complex large data of the human genome will enable us to better understand disease and develop individually tailored treatments.
Detecting cancer
A 'pill on a string' developed by researchers at the University could help doctors detect oesophageal cancer – cancer of the gullet – at an early stage. The 'Cytosponge' sits within a pill which, when swallowed, dissolves to reveal a sponge that scrapes off cells when withdrawn up the gullet. It could be developed into a swallowable test for this type of cancer, allowing medical professionals to collect cells from all along the gullet, as distinct from standard biopsies that take individual point samples.
Oesophageal cancer is often preceded by Barrett's oesophagus, a condition in which cells within the lining of the oesophagus begin to change shape and can grow abnormally. Between one and five people in every 100 with Barrett's oesophagus go on to develop oesophageal cancer in their life-time, a form of cancer that can be difficult to treat, particularly if not caught early enough. However, variations in mutations across the oesophagus mean that standard biopsies may miss cells with important mutations. Cambridge researchers have found that a sample was more likely to pick up key mutations if taken using the Cytosponge, developed by Professor Rebecca Fitzgerald at the Medical Research Council Cancer Unit at the University.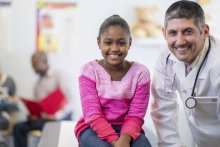 Personalising medicine early in life
In paediatrics we are working to maximise the impact of personalised medicine from the very start of life. By sequencing an infant's DNA at the very start we can pre-empt and prevent major health challenges, from obesity, depression to rare diseases. This will not only save lives but will significantly reduce the cost incurred to national health systems of providing health care over an individual's life time.
For example, we can use genomic sequencing to identify a child's genetic predisposition to obesity. That knowledge can trigger counselling and treatments to prevent weight gain and a lifetime of health complications such as diabetes and heart disease.
How you can help
With your help we can prevent premature deaths and transform the lives of those suffering with, or susceptible to, heart disease, cancer, and mental health.
£2 million will help create a children's health research institute in East Anglia which will transform paediatric care
£1 million will help support the 100,000 Genomes Project to deliver the benefits of genomics to individuals around the world
£200,000 will help support PhD students to undertake research that supports cutting-edge treatments in the field of paediatrics
Next steps
Director of Development — Cambridge University Health Partners
+44 (0)1223 333167
Make a gift now
To make a gift to Paediatrics using a credit or debit card
Find out about other ways to give.
Related impact stories
Philanthropic giving is at the heart of the success of the Collegiate University, enabling us to make discoveries that change the world and to ensure that our students receive an unrivalled education.