Cambridge in the City
Genomics: does a revolution in knowledge mean a revolution in healthcare?
Unfortunately, due to the unfolding situation with COVID-19 (Coronavirus), we have taken the decision to postpone the Cambridge in the City event on Monday 16 March. The well-being of our guests and speakers is paramount and we feel it is best to rearrange to a time where all of our guests will be able to join us. We sincerely apologise for any inconvenience caused. Please do not hesitate to get in touch if you have any concerns or questions.
Monday, 16 March 2020 — Guildhall, London
Since Watson, Crick and Franklin discovered the structure of DNA in 1953, Cambridge has blazed a trail through the field of genomics. Today, whole-genome sequencing can be completed in a matter of hours. In tandem with tremendous advances in big data and biotechnology, genomics enables researchers to diagnose disease with precision, and target treatments for everything from cancer, to diabetes, to rare childhood illnesses. But what are the real implications of this incredible technology? What does it mean for the healthcare of the future? Who will benefit economically, and what ethical questions will we need to address?
Hear the Vice-Chancellor, Professor Stephen J Toope, in conversation with Professors Sir Stephen O'Rahilly and David Rowitch, and Dr Jean Abraham, as they discuss the enormous significance of genomics, and its ramifications for our world.
For a taste of last year's event, see photos from the event on Flickr. Currently, we have representatives attending from 39 professional services firms, making this an excellent opportunity to network with other Cambridge senior executives across London.
Event details
6pm — Drinks reception
6.45pm — Panel discussion followed by Q&A
8pm — Drinks reception with canapés
Speakers
Dr Jean Abraham (Gonville and Caius 2005)​
Reader in Precision Breast Cancer Medicine, Honorary Consultant Oncologist​
Dr Abraham co-leads Integrated Cancer Medicine in the CRUK Cambridge Centre and is deputy theme lead for cancer at the Cambridge NIHR Biomedical Research Campus. She is part of the national NIHR Clinical Studies Group for Breast Cancer and the NCRI Working Party for Early Disease. Jean is Chief Investigator of PARTNER, an early-stage breast cancer trial investigating adding novel targeted agents to standard chemotherapy, and Co-Chief Investigator of the Personalised Breast Cancer Program, a sequencing project for women with all stages of breast cancer. She studied medicine at the University of Liverpool and trained in internal medicine and oncology at Cambridge, receiving her PhD in 2011. In 2017 she was named by BioBeat as one of the top 50 females in UK BioBusiness and healthcare and received a Royal Society Award.
Professor Sir Stephen O'Rahilly
Director of the MRC Metabolic Diseases Unit, Honorary Consultant Physician​
Having qualified in medicine at University College Dublin, Professor O'Rahilly undertook postgraduate training in London, Oxford and Boston before setting up his laboratory in Cambridge in 1991. He led the establishment of the Institute of Metabolic Science, which he co-directs. He seeks to better understand the molecular mechanisms leading to diabetes, obesity and related metabolic and endocrine disorders and remains active in clinical practice. The recipient of many national and international awards, in 2016 he gave the Harveian Oration of the Royal College of Physicians, London. He was elected to the Royal Society in 2003, as a Foreign Associate of the National Academy of Sciences USA in 2011 and he was appointed a Knight Bachelor in 2013.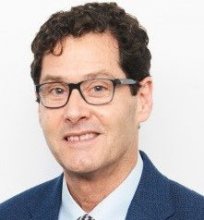 Professor David Rowitch (Clare 1984)
Head of Department of Paediatrics, Honorary Consultant Neonatologist​
Professor Rowitch obtained his MD from the University of California Los Angeles and a PhD degree from Cambridge University (Clare 1984). He is a Wellcome Trust Senior Investigator. His laboratory investigates genetic factors that determine the development and diversity of glial cells of the brain and the response to injury. He has applied these principles to better understand white matter injury in premature infants, brain cancer and leukodystrophy. His interest in precision medicine focuses on applications of genomic technologies to diagnose and better understand the biological basis and rational treatment of rare neurological disorders.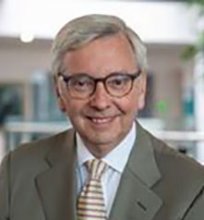 Professor Stephen J Toope (Trinity 1983)
Stephen J Toope OC, LL.D. is the 346th Vice-Chancellor of the University of Cambridge
Professor Toope is the first non-UK national to hold the Vice-Chancellor post at the University of Cambridge. He was Director of the Munk School of Global Affairs at the University of Toronto, and President, the University of British Columbia.  A former Dean of Law, McGill University, Toope was also Chair of the United Nations Working Group on Enforced and Involuntary Disappearances.
Toope publishes in global journals on human rights, international dispute resolution, international environmental law, the use of force, and international legal theory, and has lectured at universities around the world.  His book, Legitimacy and Legality in International Law, co-authored with Prof. Jutta Brunnée, won the ASIL's 2011 Certificate of Merit for Creative Scholarship.