Dr Hamied 'Frontiers in Chemistry' Alumni Webinar - A rainbow of colours from your fruit bowl
Dr Hamied 'Frontiers in Chemistry' Alumni Webinar - A rainbow of colours from your fruit bowl
Wednesday 14 December 2022,

6.00pm

to

7.00pm

GMT
Wednesday 14 December 2022,

6.00pm

to

7.00pm

GMT
Making colours with your 5-a-day with Professor Silvia Vignolini
Colour is part of our everyday life, but how much do we know about it? Look at soap bubbles and oil puddles: instead of pigmentation, they produce their bright, iridescent colours through sub-micrometer structures which manipulate light. In our research we investigate how plants create colour through similar structures using cellulose - the most abundant natural renewable resource on the planet. These natural examples have inspired us to mimic the use of biological building blocks such as cellulose to create sustainable colorants in the lab.
Self-assembly with a twist with Thomas Parton
Tom's research explores different ways of making colourful materials from sustainable building blocks such as cellulose. He is especially fascinated by the way cellulose nanocrystals can be assembled to create large-scale sustainable films with unique optical properties that produce colour. Tom will discuss his recent work on how to manipulate these cellulose nanocrystals to produce biodegradable "photonic pigments".
If you missed it, you can watch a recording of the webinar here on the Department of Chemistry's YouTube channel.
Speakers
Professor Silvia Vignolini
Silvia Vignolini is a University Professor in Sustainability and Bio-inspired materials in the Yusuf Hamied Department of Chemistry. Her research interests lie at the interface of chemistry, soft-matter physics, optics and biology, and her Bio-inspired Photonics research group draws on these areas to research and create sustainable materials. To date, Silvia has published more than 200 articles in academic journals. Her many prestigious fellowships and awards include a BBSRC David Phillip Fellowship, an ERC Starting and Consolidator grant, the RSC Gibson-Fawcett Award and the Leverhulme prize. 
Thomas Parton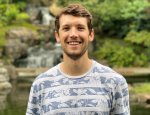 Thomas Parton is an EPSRC Doctoral Prize Fellow in Professor Silvia Vignolini's Bio-inspired Photonics Group. Tom studied Natural Sciences at University College London, including a year at the California Institute of Technology, before coming to Cambridge. His research is focused on the self-assembly of colloidal particles to create optical materials. 
Dr James Keeler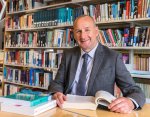 Dr James Keeler is Head of the Yusuf Hamied Department of Chemistry but many alumni will remember him as Director of Teaching, a post he held for many years. His research interests were in NMR spectroscopy, but of late he has focused his spare energies on writing text books such as Atkins' Physical Chemistry, widely acknowledged to be the textbook of choice for studying physical chemistry. The 12th edition, which James co-authored, is scheduled for publication at the end of the year. 
Booking information
Booking for this event is now closed.