More food for more people
Each day, 842 million people across the globe struggle with hunger.
Food security is the defining agenda for the world, with its population set to rise to rise to 10 billion by 2050. Increasing prosperity, changing lifestyle aspirations and urbanisation are putting pressure on land use and biodiversity. Uncertainties associated with changing climate and instabilities in markets for food and fuel will need to be overcome. Technological advances allowing crops and soils to be sustainably exploited are urgently needed.
Leading research into sustainable agriculture
The University of Cambridge, in collaboration with the National Institute of Agricultural Botany (NIAB), is establishing a flexible and dynamic research hub, the Centre for Crop Sciences (3CS). The Centre will bridge the gap between basic and applied crop science.
It will lead research to unearth the molecular and physiological basis to plant growth and grain quality, and contribute to innovative crop pre-breeding activities. These fundamental plant science discoveries will then be translated into sustainable agricultural solutions for higher yields and improved nutrition. Finally – but vitally – a new generation of crop science experts will be trained to ensure that we can continue to feed future global populations.
3CS will be one component of a University-wide food security initative. Cambridge is uniquely placed to rise to the challenge as a convening power, able to draw academic experts, businesses and government agencies together under one roof.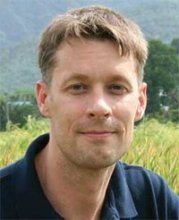 Securing the world's food supply
Our faculty and students are already pioneering innovative discoveries and solutions for an agricultural future that is inclusive, poverty-reducing and hunger eliminating. Dr Julian Hibberd in the Department of Plant Sciences is working with Tamil Nadu Agricultural University in India to develop improvements in cultivated rice through mixing with wild varieties. He was recently ranked by the international science journal Nature in the top five plant scientists who could change the world. We are also establishing global partnerships, for example with the Department of Biotechnology at the Ministry of Science and Technology, India, to develop centres for crop nitrogen research in India.
Through an existing partnership with NIAB – one of our many partners in the East of England - we are spearheading efforts across sub-Saharan Africa to improve the translation of agricultural research into farming practice, including trialling innovation farms in Ghana, Kenya and Uganda. We are also working to control the epidemiological spread of crop disease in Africa – such as cassava mosaic virus and new strains of wheat stem rust.
How you can help transform the future of global food security
The single most fundamental challenge to the survival of the human species is food security: the ability to grow food, and minimise impact on the environment, consistently.
We are seeking philanthropic investment to establish the Cambridge Centre for Crop Sciences: 
£30 million will house our collaborative partnerships in a dedicated crop sciences facility to facilitate discoveries that secure our food supply in the future
£2.5 million will endow a crop science professorship to oversee the delivery of this vision 
£1 million will establish a number of PhD studentships in order to train a new generation of crop scientists in modern biotechnology, sustainable agriculture and traditional plant breeding
Next steps
Make a gift online now or discuss your philanthropic objectives by contacting me.
Director of Development — Schools and Institutions
georgina.cannon@admin.cam.ac.uk
+44 (0)1223 330890
Make a gift now
Make a gift now to The Cambridge Centre for Crop Science by credit or debit card, or set up a direct debit:
Or, find out about other ways to give.
This opportunity is part of
Related impact stories
Philanthropic giving is at the heart of the success of the Collegiate University, enabling us to make discoveries that change the world and to ensure that our students receive an unrivalled education.