From the Arctic to the Tropics: Highlighting the depth of research by Harding Distinguished Postgraduate Scholars
Nurturing the finest academic talent to contribute to society through the pursuit of research
The Harding Distinguished Postgraduate Scholars Programme offers fully funded scholarships to the most talented PhD students in any discipline from the UK and around the world. The programme was established in February 2019 thanks to an extraordinarily generous donation from the David and Claudia Harding Foundation, the biggest single gift made to a university in the UK by a British philanthropist. 
Emilie Canova (Fitzwilliam College) and Maria Papaiakovou (Christ's College) tell us how being a Harding Scholar has provided life-changing opportunities to research and study at the University of Cambridge. From geopolitical challenges in the Arctic to the development of diagnostics for diseases caused by worm infections, the Harding Scholarship is nurturing the finest academic talent, regardless of background or means, to contribute to society through the pursuit of research at the highest international levels.
Emilie Canova, PhD candidate in Polar Studies (Fitzwilliam College 2021)
Exploring Arctic-EU relations: two geopolitical overlapping regions | Scott Polar Research Institute
I lived for a while as a child in Norway (south of the Arctic circle), which made me aware of indigenous people living in Northern Europe, adapting to life in a harsh climate with long, dark and cold winters. I later learnt about the issues facing the indigenous Sami population, such as supporting their language and livelihood. Sami want more autonomy and greater control over the policies that affect them. We could learn a lot from the way that they relate to and respect the environment. They cooperate well as a society because teamwork has been essential for survival.
The European Union (EU) legislation impacts some areas of the Arctic, including indigenous communities. It influences policies around climate change, the environment, and on social issues including education, access to healthcare and improving connectivity. Discussions about EU-Arctic relations are often Eurocentric by nature, and I'm interested in how improved interactions could benefit policymaking.
I'm the first person in my family to study for a PhD. The Harding Scholarship has allowed me to return to education and gain a wider understanding of my field by attending conferences in Norway and Iceland. The Scott Polar Research Institute is the obvious first choice for Arctic research in the UK, and it benefits from uniting social and natural sciences under one roof. The library is amazing, as is the Polar Museum where I've participated in outreach work. I attended the Polar Humanities and Social Sciences Early Career Researchers Workshops last year, and this year I'm co-convening the series.
Marina Papaiakovou, PhD candidate in Biological Sciences, Veterinary Medicine (Christ's College 2021)
Understanding and diagnosing neglected tropical diseases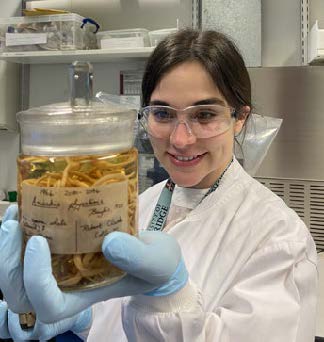 After my undergraduate degree in Greece, I won a scholarship to study for a Masters in the USA. I was the first person in my immediate family to continue to higher education, and the first to live abroad. Following the Masters, I worked alongside local scientists in countries where neglected tropical diseases are endemic, including Argentina, Ethiopia, India and Kenya. After six years, my interest in science and research drew me back to academia, as a mature student.
The current approach of 'mass deworming' to treat intestinal worms is more cost-effective than a 'test and treat' approach but has led to the emergence of drug resistance, and few vaccines are currently available (all for veterinary use only). My PhD is focused on analysing DNA sequences of different worms and eggs found in stool samples to understand more about disease transmission and interaction between gut parasites and their host, to optimise and develop better diagnostics to support epidemiological interventions. New technologies, such as portable PCR machines and sequencers, could help us build infrastructure and scientific knowledge in local communities. This would be more effective and sustainable than current mass deworming approaches.
My PhD focuses on the development and validation of diagnostics for helminth (worm) infections, which affect over 1.4 billion people worldwide and present a major threat to food security and to human and animal health.
The opportunity to study for a PhD arose thanks to the Harding Distinguished Scholars Programme. I was excited to study under my supervisor Professor Cinzia Cantacessi, an inspiring and formidable scientist. I'm surrounded by a great support team here including my fellow cohort of scholars, my supervisor, my advisors, and the Fellows and staff at Christ's College. I've encountered a few serious life challenges in the last few years, but the Cambridge 'pillars of comfort' mean that I'm always able to work at my best and receive the support I need.
Contact
For more information about supporting postgraduate students, please contact: