Cambridge Public Policy Initiative
As global challenges rise to an unprecedented scale and complexity, there is a need for institutions that engage deeply with new ideas, new technologies and the challenges of the 21st century.
The University of Cambridge, with its history of disruptive thinking, interdisciplinary work and cutting-edge research, is well-placed to lead the way in finding and implementing solutions to complex modern challenges.
The Institute for Public Policy
The Institute of Public Policy seeks to draw together Cambridge's expertise in science and technology with our rich tradition of political thought to address major global problems, from climate change to digital surveillance and security, from every angle and perspective.
To date, Cambridge's public policy research has grown organically as our world-leading academics pursue deeper understanding and make a difference to society. By drawing this work together in a formal policy institute, we will create a hub of expertise with the potential to make a globally significant contribution to how societies confront their most pressing challenges.
Our vision is to develop an Institute of Public Policy that would grow our engagement of policy-makers from around the world, prove a natural home for our Master's in Public Policy, and create an internationally renowned forum where the world's foremost experts from across the academic disciplines can apply their knowledge to the most important issues around the world.
Training the next generation of policy-makers
Our Master's in Public Policy trains students to analyse the processes involved in the formation of policy and to ask where these processes go wrong. It helps them to consider issues from a range of perspectives and how to critically appraise information from different expert sources.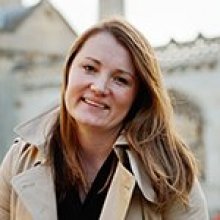 Meet Eleanor
Eleanor Robb studied a Master's of Public Policy, a course that trains the policy-makers of the future.
"Policy is always really challenging because you've always got such a level of complexity, with so many competing goals and different stakeholders. Policy touches people's lives every day in a thousand ways that they might not even notice and you really need people that have the skills, knowledge and expertise to develop policy properly to benefit the greatest number of people," said Eleanor.
Eleanor received funding for her Master's through a bursary from YouGov.
"Without their support I wouldn't have been able to do the course and gain this amazing education and experience that will be a life-long foundation for whatever I pursue in policy," she said.
A creative home for visionary ideas
By adopting a creative, interdisciplinary approach to major issues of public policy, we are finding solutions with the potential to redefine the approaches of governments across the world. 
Our passion to advise and serve political decision-makers around the world does not mean that they will always find our ideas comfortable. Rather, Cambridge has long been a natural home for radical, disruptive ideas with the potential to overturn political consensus. John Maynard Keynes' economic theory, which turned the classical model of economics on its head and provided the foundations of the post-war economic settlement, is one prominent example.
The Institute for Public Policy will facilitate deeper engagement between academics, policy-makers and the public, running open lectures and seminars, which provide audiences with the opportunity to hear from, challenge and debate with ministers, senior civil servants, representatives from industry and academia. 
Policy-making in context
From global food security to climate change and public health: the solutions to the defining issues of the 21st century can be accelerated by uniting Cambridge's policy expertise with our work in science and technology. For example, by building stronger partnerships between our plant scientists we have the potential to increase crop yields and decrease global hunger.
This combination of strengths is unique to Cambridge and means we have the capacity to launch programmes and make an impact not possible at any other institution. We are now seeking to build philanthropic partnerships with investors who share our vision to take Cambridge's contribution to public policy, from the local to the global, to an entirely new level.
Philanthropic opportunities
Supporting studentships
Endowing professorships
Developing the Cambridge Social Science Research Programme in the areas of quantitative social science and public policy
Contact us
If you would like to discuss your philanthropic goals or explore opportunities for collaborative investment, please contact us.
Senior Associate Director – Humanities and Social Sciences
+44 (0)1223 330044
Cambridge Public Policy Initiative website