Curing cancer through early detection and precision medicine
Our vision is a global future in which early detection and precision treatment are as mainstream to cancer diagnosis and management as an MRI scan is today. 
We will have succeeded when cancers are found before people become sick, when we can spare patients harmful treatments, and when these life-saving approaches are available in healthcare systems around the world.
A world without cancer, where the dark corners of the ward are banished to the history books. That's a pledge worth pursuing.
Professor Richard Gilbertson
A global problem
Cancer is a leading cause of death no matter where you are from. Rapidly escalating treatment costs mean more is spent globally on treating cancer than on any other disease. 
With diagnoses continuing to rise, and many healthcare systems around the world already struggling to cope, this is truly one of the most daunting challenges of our day.
---
Early detection dramatically increases survival rates
With far too many cancers diagnosed only once patients have symptoms and the disease has already spread, we must become better at developing technologies and tests for early detection.
This avoids the cost to patients and healthcare systems of trying to manage the late-stage disease with extensive surgery and highly toxic drugs.
---
When cancer cannot be found early, we should treat it precisely
Precision medicine unleashes the power of big data, machine learning, and artificial intelligence to match patients to a course of therapy designed to target the vulnerabilities in their specific cancer, increasing the chances of cure, minimising side effects, and conserving resources.
---
Cambridge leads the way in cancer research
In October 2018, Cambridge scientist Professor Sir Gregory Winter won the Nobel Prize in Chemistry for his pioneering work on monoclonal antibodies, a discovery that has revolutionised cancer drug therapy globally.
This 107th Cambridge Nobel Prize is just one example of how the University has profoundly shaped how we understand and treat cancer: from our discovery of the structure of DNA to the development of rapid genome sequencing, and the creation of the first drug that targets inherited cancer-causing mutations.
A visionary new cancer research hospital
Now we are creating a new kind of cancer hospital: one that finds cancers sooner and treats them better. The Cambridge Cancer Research Hospital (CCRH) will co-locate clinicians and cancer researchers alongside physicists, engineers, mathematicians, computational scientists, and any other experts needed to create innovative approaches to diagnosis, treatment, and monitoring that will improve patient care dramatically.
The Hospital will stand at the heart of Cambridge's Biomedical Campus, and draw on research efforts of nine world-leading research institutes, 24 University departments, and over 600 of the brightest minds working in health sciences today. Commercial partners from start-ups to AstraZeneca will help ensure what is developed here is delivered on a global scale.
Although our scientists and doctors cannot be in every neighbourhood, our discoveries and treatments will be: for every patient cured at the Cambridge Cancer Research Hospital, thousands more will benefit worldwide.
---
Institute for the Early Detection of Cancer
The Institute for the Early Detection of Cancer, embedded within CCRH, will focus on overcoming the challenges in translating early detection advances from research into clinical practice. It will be the first of its kind in the world.
This deliberate focus on early detection will reduce the time it takes to get promising new technologies and devices into clinical practice, with the ultimate aim of saving lives, improving quality of life, and managing healthcare costs. Innovation will play a major role in how we advance and improve early detection. With engineering and physics workshops, prototyping facilities, and biology labs, experts from across Cambridge, the country, and the world will be able to collaborate and iterate, testing new ideas using state-of-the-art equipment.
---
Institute for Integrated Cancer Medicine
The Hospital's Institute for Integrated Cancer Medicine will be a working laboratory for how Big Data can be used to benefit individual patients. Each patient will generate huge amounts of data during their treatment. But due to the sheer volume and complexity of this information, researchers are unable to use it to maximum effect.
By harnessing the power of AI and machine learning, we can meaningfully combine insights from individual genetic, molecular, and imaging data. This will transform that data into a powerful tool for more personalised and effective treatment.
---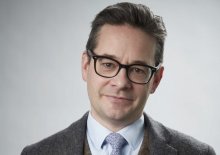 Professor Richard Gilbertson: A man on a mission to beat cancer
Thirty years ago, Professor Richard Gilbertson pledged to implement a 15 per cent reduction in mortality from children's brain cancer. This is the story of what happened next.
On the children's ward at Newcastle General Hospital in 1986, medical student Richard Gilbertson got his first taste of life as a paediatric oncologist. He looked around the ward and saw a child in a bed, in a dark corner. "She has a medulloblastoma that has returned," the consultant said.
"What can we do for her?" asked Gilbertson, who had been fascinated by medulloblastomas — one of the commonest malignant brain tumours in children — since his first year of medicine, when he was randomly assigned to do a project on them. "Nothing," the consultant replied. "The only thing we can do is let her die in peace."
"I got so angry," remembers Gilbertson — now Professor — sitting in his airy office on the first floor of the vast glass-and-steel Cancer Research UK Cambridge Institute (CRUK CI) at the Li Ka Shing Centre. "It was the 1980s and there was nothing we could do for a child with a brain tumour. That was completely unacceptable to me. And I know it sounds contrived, but I made up my mind from that moment that I was going to do something."
Imagine a future where people never get cancer as we know it, a world where your doctor can accurately test for the early stages of cancer, where you intervene with treatments that are straightforward and relatively non-toxic—maybe even minor surgery—and that's it.
Professor Richard Gilbertson
Join us on this journey to cure cancer sooner
With your help, one of our highest priorities, our new cancer hospital, will turn scientific breakthroughs into the next generation of cancer diagnostics and treatments. You can support cancer research at Cambridge by donating online, or to learn more, please contact:
Senior Associate Director – Cancer Cambridge University Health Partners
+44 (0)7514 665 806
Make a gift now
Make a gift now to support Clinical Medicine by credit or debit card, or set up a direct debit:
Or, find out about other ways to give.
This opportunity is part of
Related stories
Philanthropic giving is at the heart of the success of the Collegiate University, enabling us to make discoveries that change the world and to ensure that our students receive an unrivalled education. Cambridge owes its world-leading excellence in research and teaching to the generosity of its supporters. Our history is synonymous with a history of far-sighted benefaction, and the same is as true today as it has ever been.