Give to the Club Support Fund
Students at Cambridge remain as competitive as ever, with the desire to push themselves intellectually, physically and mentally. Our challenge now is to make sure that future generations have the same opportunities.
The need for philanthropy 
The University of Cambridge invests nearly one million pounds in sport each year. Most of this goes towards a dedicated team helping students access and participate in sport, the upkeep of the University Sports Centre and the management of sports grounds at Fenners, Wilberforce Road and Grange Road.
Diminishing funding streams at the corporate and national levels have tightened club finances. To cope with the rising costs of facilities, coaching and equipment, clubs have had to increase student subscription fees by an average of 68% over the last 8 years.
Financial barriers both to the clubs and students directly impact levels of participation and the success of Sport at the University of Cambridge. There is also an emerging appetite for a broader and more diverse range of Sports clubs to accommodate a changing student demographic.
Students seeking membership or participation in a University sports club will be committed, hardworking, and talented. We want to ensure that all student-athletes can continue to pursue their goals at the highest level and to play sport alongside the very best.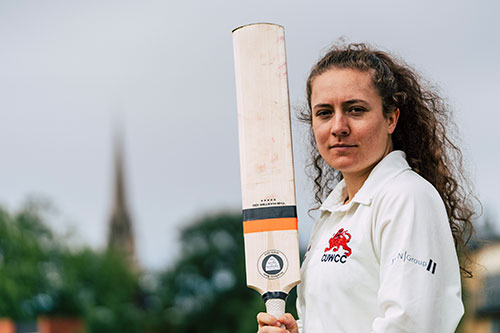 Some colleges will pay 50% of all costs, some will pay up to £250, some just the full cost of a Blues Blazer (£200), others none. Hawks Awards help too. Subscriptions can be £400 for some sports, and for some students, this is just too expensive.
Holly Tasker, former Co-president of the Cambridge University Cricket Club
Funding Priorities
There are 3 key areas where increased funding would directly impact University Sports Clubs; all contributing towards building and developing a high performing, competitive, inclusive and successful team.
Access
Removing barriers to participation for students who would otherwise not be able to join:
Bursary funding for subscriptions, match fees etc
Tailored support for disabled students (competition preparation, specialist coaching and equipment)
Competition
Helping our Sports Clubs achieve their potential in national student competitions and varsity matches:
Higher level coaching, central support network to develop skills, tactical awareness and team cohesion
Competition costs such as entry fees, transportation and accommodation
Strength and conditioning training to prevent injuries and improve physical conditioning in preparation for competition 
Team development
Providing a positive, safe and memorable experience for students:
Centralised training on topics such as nutrition, welfare, psychology, first aid, mental health awareness 
Reduced physiotherapy and sports massage costs  
Free Personal Injury Insurance cover  
How to give
We invite you to invest in our Club Support Fund, a funding resource all sports clubs can apply for on a needs basis. The University Sports Service will review funding applications throughout each term and prioritise allocations for clubs demonstrating the most significant barriers to access, competition or team development.
You can also donate to our newly established University Sport Endowment fund. This fund holds and invests donations, fulfilling its purpose by preserving the capital of donations and maximising the income available for distribution. The support the Fund will provide will be critical to the success and sustainability of University Sport and to all of those students who seek to play Sport while at Cambridge. 
How we recognise your gift
Committed supporters to this vital programme would be acknowledged by:
Termly reports to update you on the impact of your donation 
Appropriate recognition in internal and external communications in relation to sport at Cambridge 
Annual thank you event to be hosted by the Director of Sport with other senior members and to be attended by key volunteers involved and benefiting from playing Sport at Cambridge 
Playing a team sport teaches important lessons: there is no substitute for hard work, how to be a valued member of a team, when to lead and when to follow and how to get the best out of yourself and your teammates. I am delighted to give back in order to encourage students to enjoy a sport or any physical activity to enhance their experience.
Andy Rubin (Trinity 1984), CUSWPC and member of the Alumni Advisory Board, Chairman, Pentland Brands PL
Make a donation
Thank you for considering supporting this programme and making a difference in the lives of our students. You can make a donation online, or to discuss further please contact: 
Senior Associate Director — Sports, Clubs and Societies
+44 (0)1223 330015 or mobile: +44 (0)7710 376604
Make a gift now
Make a gift now to support University Sports Club Support Programme by credit or debit card, or set up a direct debit:
Or, find out about other ways to give.
This opportunity is part of