Global talent to shape our global future: supporting postgraduate students
The problems the world faces in education, security, food supply, climate change, health, and energy supply are complex, vast and urgent. There are thousands of students out there who have the potential to make their mark on the world and help us solve these problems. And Cambridge must always be a place where they can do it.
In just the last five years, Cambridge's postgraduate students have discovered four-stranded DNA in humans, developed a means to stop HIV transmission through breast milk, built the first computer model of blood cell development, improved low cost housing built in South America, and found new methods to make nuclear power safer and more sustainable.
Postgraduate students make groundbreaking discoveries
Today, our 6,500 postgraduate students are the engine room of the University – driving the development of important new ideas and discoveries such as these. Tomorrow, they will be leaders and innovators – tasked not with maintaining the status quo in society, but with challenging it, and finding ways to make the world work better.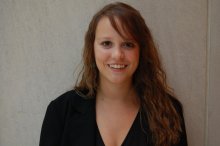 Entrepreneur Sir James Dyson recently made a major gift to support space to train PhD students in engineering. He explains that "postgraduate students are incredibly important – their advanced technical ability combined with deep specialist knowledge makes them indispensable."
One of these talented problem solvers is Brie Stark, a postgraduate student at Gonville and Caius College. She explains her motivation for pursuing a PhD at Cambridge:
"My uncle suffered a stroke at the age of 60 which hugely affected his ability to talk: this was a key reason why I came here to study speech therapy. I'm looking at ways to help people get that therapy electronically, using an Apple iPad. I'm very lucky to have a hospital on my doorstep, and my own, personal, clinical trial has already shown some amazing results — we're seeing an 80% improvement for some patients."
"This is significant: there are thousands worldwide who don't get adequate help. In the UK alone, there are 40,000 people who need daily therapy, but most can't afford it. My scholarship has enabled me to come here and do this. And if I'm right, stroke patients like my uncle, across the planet, will suffer less because of it."
6,500
full-time postgraduate students at Cambridge
60%
of full-time postgraduate students from outside the United Kingdom
31
Colleges that act as homes for our postgraduate students
70+
academic departments and faculties that train postgraduate students
88%
of recent Cambridge leavers in employment or full-time study
Next steps
To help support postgraduate students at Cambridge you can donate online, or to discuss further philanthropic opportunities please contact:
Make a gift now
Make a gift now to support Support postgraduate students by credit or debit card, or set up a direct debit:
Or, find out about other ways to give.
Associate Director — Student Support
+44 (0)7759 131742
This opportunity is part of