Preserving cultural heritage
The 2015 earthquake in Nepal damaged up to 20,000 rare South Asian works on Buddhism, Tantrism and astrology in Kathmandu's central library. Mosul Library in Iraq, targeted and burnt by militants in the region, had housed 8,000 ancient manuscripts.
Our most precious artefacts, the foundations of our culture and heritage, have become pawns or trophies in war or conflict.  If not systematic destruction, then catastrophic natural disasters continue to highlight their fragility and vulnerability.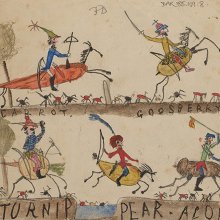 Opening up the foundations of our identity and heritage
Our collections have been 600 years in the making.  From the earliest known copy of the Ten Commandments to Isaac Newton's handwritten notes, the University's unique collections span the ages and globe, but until recently were only accessible to a small number of academics.  
This began to change in 2011 with the launch of the Digital Library. Project Manager and Metadata Specialist Huw Jones explains: "The Digital Library is Cambridge's tool for opening up its precious collections and manuscripts of great historical significance, for free, to anyone in the world with internet access – a potential audience of 3.2 billion!"
"Charles Darwin's manuscripts are among the 25,000 digitised so far. As you leaf through pages of rather awful handwriting you unexpectedly encounter a brightly coloured picture of a soldier sitting on a carrot. This is a page from a lost draft of On the Origin of Species, and survives only because it was reused as drawing paper by one of Darwin's children. Darwin is rightly known as one of the world's most important scientists – but this shows another side to life in the Darwin household, which was by all accounts quite a fun place to live!"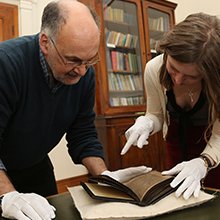 Transmitting knowledge through future generations
An Institute of Global Palaeography will be established to enable us to study historical hand-written manuscripts, and interpret and open up our history as never before. Existing expertise will be consolidated to teach future generations of students core palaeographical skills. Paul Russell, Professor of Celtic, gives an insight: "Palaeography ensures that remarkable information which risks becoming obsolete since it is written in a lost language or on decomposing material, is instead safeguarded and transmitted through future generations."
"It is the apparently insignificant and scruffy items which I find appealing as windows onto the thoughts and practices of our ancestors.  One example is 9th-century copy of Juvencus's version of the Gospels - a manuscript intended for high-level exegetical teaching.  Whereas the main scribe of the text was almost certainly Irish, 13 additional scribes added comments.  Some of these Welsh glosses, in top margins, are in fact the earliest surviving Welsh verse, from the 10th-century.  One is written by a lord lamenting that he has no-one of equivalent status to talk to around his camp fire!"
Preserving our heritage for the future
Important foundations have been laid.
£15 million will spur efforts to appreciate, understand and preserve some of the world's most precious manuscripts at an Institute of Global Palaeography
£12 million will enable us to digitise and share more of our world-class collections on the Digital Library
Next steps
Managing Director of Development
georgina.cannon@admin.cam.ac.uk
+44 (0)1223 330890
Make a gift now
Make a gift now to support Cambridge University Library by credit or debit card, or set up a direct debit:
Or, find out about other ways to give.
This opportunity is part of