Saving our planet's biodiversity
Our survival depends on nature 
At the most basic level, nature provides us with clean air, water, healthy soils, and raw materials that form the basis of economic activity. 
Nature helps to combat global warming and climate change — it absorbs around 50 per cent of our greenhouse gas emissions.
Nature mitigates natural disasters — regions with healthy ecosystems suffer less when natural disasters occur.
Nature is linked to tackling poverty — developing countries depend disproportionately on nature for subsistence, and conservation can be a route out of poverty
Working together to protect the future
Cambridge Conservation Initiative (CCI) brings together the University of Cambridge and nine leading international biodiversity conservation organisations at a flagship conservation campus—The David Attenborough Building. Our shared goal is to find solutions to end the degradation of our most essential resources and to build a better, more equal future for the world's inhabitants.
Together, we can tackle challenges to biodiversity, and the wealth of 'natural capital' it represents, in ways that cannot be achieved by any partner alone. 
At CCI, academic research and on-the-ground conservation converge to yield transformational approaches to the destruction of the Earth's ecosystems. We are uniquely placed to feed new thinking and training into worldwide conservation practice and policy through partner conservation organisations and their networks.
Similarly, the experience, knowledge and information from on-the-ground policy implementation and practice inform CCI's research and teaching.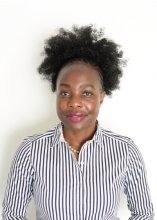 Meet Rodah Owako, MPhil in Conservation Leadership alumna
I was inspired by nature through the abundant biodiversity in my country, Kenya. I studied for a BSc in Environmental Health and an MSc in Environmental Studies at Kenyatta University, focusing on climate change and its impacts on biodiversity. 
I have just joined WWF International as Manager for Corporate Partnerships for Africa.  My role involves building partnerships with corporates with the aim of driving sustainable business practices in their supply chain as well as leveraging those relations to raise awareness of key environmental issues and mobilize funds for conservation.
This is an exciting key leadership role as I bear the responsibility for 13 WWF network offices in Africa for guidance on strategic planning, and to build their capacity on how they could help businesses in their countries see their contribution towards driving biodiversity loss and develop joint conservation solutions for this problem.
Beyond the insurmountable knowledge I gained on the MPhil course, I also developed transferable skills. First and foremost, the ability to think strategically and negotiate with the private sector is a huge advantage and adapting my communication in a way that they understand is critical in my work. I also developed strong networking skills which have helped me immensely while exploring strategic partnerships with the private sector.
How you can help protect biodiversity.
Transformational philanthropic investment will advance innovative conservation solutions, secure academic expertise in conservation across the University, and enable international partnerships
£1 million will support multiple cross-disciplinary conservation projects over four years
£2.5 million will secure leadership of the University of Cambridge Conservation Research Institute
£2.5 million will secure the Directorship of the MPhil in Conservation Leadership, CCI's flagship collaboration with the Department of Geography, which trains the next generation of global conservation advocates and change-makers
£9 million will support conservation specific lectureships across six founding departments (Geography, Land Economy, Plant Sciences, Zoology, Cambridge Institute for Sustainability Leadership, Cambridge Judge Business School)
Next steps
You can support the CCI by donating online or to discuss your philanthropic goals, please contact:
Make a gift now
Make a gift now to support Cambridge Conservation Initiative (CCI) by credit or debit card, or set up a direct debit:
Or, find out about other ways to give.
This opportunity is part of
Related stories
Philanthropic giving is at the heart of the success of the Collegiate University, enabling us to make discoveries that change the world and to ensure that our students receive an unrivalled education. Cambridge owes its world-leading excellence in research and teaching to the generosity of its supporters. Our history is synonymous with a history of far-sighted benefaction, and the same is as true today as it has ever been.