Transforming paediatrics through genomics
Rare genetic diseases affect over 200m of the world's children, a third of whom won't see their fifth birthday. Brain and mental health problems, such as autism and cerebral palsy, affect all ages, but many have early origins in childhood.
What if we could predict brain and mental health disorders, rather than waiting for the symptoms to appear? 
Through DNA screening, or "whole genome sequencing", we can diagnose serious genetic problems earlier, make better decisions, and start individual, personalised therapies sooner. We can shift the paradigm from eventual diagnosis for adults to true early detection and proactive prevention for children. 
We can change, save, and improve millions of lives.
Children's Health at Cambridge is embracing the genomic revolution
By establishing infant DNA screening, we will create an extremely powerful diagnostic tool to track illnesses coded in from birth. Even if symptoms take years to develop, we will be better placed to react. We will develop new and highly personalised methods of gene therapy to tackle fatal neurodegenerative diseases in both children and adults. 
Linking this genomic information to large health databases will create a living "neural network" that allows us to predict and prevent disease from infancy into adult life.
From Cambridge to the UK, to the world
The framework for this project is the UK's National Health Service: a unified, taxpayer-funded system that covers 100% of the population, which means that we can work at scale, without the barriers found in more decentralised healthcare systems. We can cross-link to national health and education records and look for connections between genetics, education, socio-economics, and behaviour over entire lives. 
Once proven, we can scale again, so that life-saving lessons learned in the UK can be implemented around the globe.
A new Cambridge Children's Hospital 
To create this new model for children's health, we must give it a home. Our vision is for a brand-new, purpose-built Children's Hospital on the Cambridge Biomedical Campus, the largest and fastest growing life-science hub in Europe. 
A Global Genome Institute, embedded in the Hospital, will be where the world's best minds can work together across disciplines to translate breakthroughs in genomic science into life-saving treatments for infants and young people.
The Hospital will bring mental and physical healthcare together under one roof to become a world-class centre for the provision of a new, holistic model of care.
Cambridge leads the field
From Crick, Watson, Franklin, and Sanger, to John Gurdon's stem cell work, Cambridge has been at the forefront of DNA and genetic breakthroughs for 70 years. No-one else can rival our 107 Nobel Prizes.
We are the European epicentre of cutting-edge genomics. Cambridge University Genetics and the Wellcome Trust Sanger Institute lead the field. We have Bioinformatics and Biostatistics Institutes nearby to aid with long term research. And we can instantly connect patients to gene and drug therapy at the Cambridge Brain Regenerative Therapy Centre.
It is easier to build strong children than to repair broken men
Frederick Douglass, African-American statesman and former slave, 1818–1895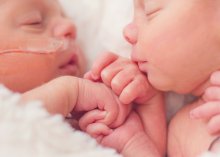 Cambridge receives £100 million for major new children's hospital
The new children's hospital will bring together some of the world's top scientists to explore new ways of diagnosing and treating some of the most challenging diseases of childhood. Mapping the whole human genome and understanding the genetic basis of disease and recovery is central to the hospital's vision. 
Join us
We need partners who share our commitment to improving children's health and see the potential in a new approach to screening and diagnosis: a dynamic dataset that is constantly evolving, shaping our understanding of the brain and mental health across entire lives - a tool which can change the way we approach illness and opens the door to true early detection and successful treatment.
Make a gift now
Make a gift now by credit or debit card, or set up a direct debit:
Or, find out about other ways to give.
This opportunity is part of