World-class teaching and mentoring: supporting undergraduate students
The University of Cambridge is consistently ranked among the foremost universities in the world. In 2016 the Guardian, Times Higher Education table of tables, and Shanghai Jiao Tong University's Academic Ranking of World Universities ranked Cambridge as the top institution in the United Kingdom.
Meanwhile, in the QS World University Rankings Cambridge was ranked 4th in the world and the Times Higher Education World University Rankings also placed it 4th.
A key component of Cambridge's ability to maintain these leading rankings is its unique and world-class supervision teaching system. Each year we welcome around 3,500 bright and ambitious undergraduate students into our Colleges, along with many graduates. Three years later they leave Cambridge equipped with the passion and the knowledge to make their mark on the world.
In College supervision sessions, the intelligence and curiosity of students is nurtured and channelled by leading practitioners. This could be anyone from an acclaimed novelist to a Nobel prize-winner. These are the people to whom international statesmen and religious leaders look for advice. They teach our students to be open-minded and critical, to pursue knowledge and to give it back to the world.
My College tutor at Cambridge was also my mentor. He taught me how to write, how to think and how to develop original ideas.
Sarah Dillon
At Cambridge teaching is a two-way process
Sarah Dillon, now a University Lecturer in Literature and Film, recalls her experience as a student:  "My College tutor at Cambridge was also my mentor.  He taught me how to write, how to think and how to develop original ideas. One-to-one sessions between students and tutors make teaching here unique. Rather than hastily scribbled paragraphs of feedback on the odd essay and ten minutes snatched between lectures – we have an hour's discussion on an essay every week - a level of detail and analysis more akin to PhDs than undergraduates.  Our Colleges ensure that no-one slips through the cracks. The less able are nurtured, the brilliant can bloom, and a network is built that will stay with students for the rest of their lives."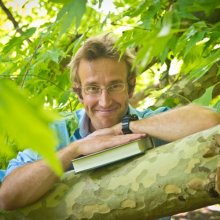 New ideas can lead to new interpretations
Dr Robert Macfarlane, Emmanuel College Fellow and Director of Studies in the Faculty of English explains: "The supervision system here is one of the main things that makes Cambridge special. The interaction that we have here between student and academic is extremely important – it was attractive to me as a student and it's important to me now as a Fellow."
"The students are constantly surprising and challenging, they are the most amazing people. I'm constantly learning from them, they are such genuinely clever people. While I have the subject matter knowledge, they bring a real intelligence and new ideas, which is constantly refreshing – and can lead to new interpretations."
Invest in future leaders
A priority for our fundraising campaign is to welcome world-leading academics to our community of prolific and brilliant minds.  We are aiming to secure investment totalling £300m to endow or term-fund 100 of these posts.  Many will be 'linked' to the Colleges, where they would guide, teach and inspire undergraduate students. 
Next steps
To discuss how you can help support Cambridge's undergraduate education, please contact:
Associate Director, Student Support
+44 (0)1223 766195
Make a gift now
Make a gift now to support Undergraduate student bursaries (Student Registry) by credit or debit card, or set up a direct debit:
Or, find out about other ways to give.
This opportunity is part of
Related stories
Philanthropic giving is at the heart of the success of the Collegiate University, enabling us to make discoveries that change the world and to ensure that our students receive an unrivalled education. Cambridge owes its world-leading excellence in research and teaching to the generosity of its supporters. Our history is synonymous with a history of far-sighted benefaction, and the same is as true today as it has ever been.