Business and management
Cambridge Judge Business School (CJBS) works with students and organisations to identify important problems and questions and challenge people to find innovative answers.
Direct economic impact
Since 1990, the Business School has forged a reputation as a centre of rigorous thinking and high-impact transformative education, situated within one of the world's most prestigious research universities and at the heart of the Cambridge Cluster, the most successful technology entrepreneurship grouping in Europe. The Cambridge Cluster generates over £13bn in revenue and includes companies such as ARM Holdings, Autonomy Systems, AVEVA Group, Blinkx, and Xention.
The Business School pursues innovation through interdisciplinary insight, entrepreneurial spirit and collaboration. Cutting edge research is rooted in real-world challenges and students and clients are encouraged to ask excellent questions to create real-world change. Through our thriving Business School, the University of Cambridge has a direct economic impact on the business world, contributing significantly to new start-up companies through experience and the study of entrepreneurship. Our academics' expertise is shared with a diverse range of users including entrepreneurs, non-profit organisations and businesses run by our own alumni. We specialise in deep engagement with companies and individuals, fostering long-term collaborations.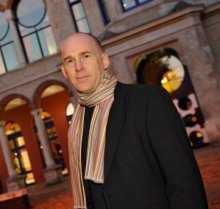 Meet Dr John Coates
The Business School attracts talented multi-disciplinary business thinkers such as Dr John Coates, a former Wall Street trader and now a senior research fellow in neuroscience and finance.
Dr Coates researches the biology of risk taking and stress. He has found fascinating links between levels of hormones in the brains of city traders and the amount of risk they are willing to take.
Having traded derivatives for Goldman Sachs and run a trading desk for Deutsche Bank, Dr Coates developed techniques for valuing and arbitraging the tails of probability distributions, and for trading low probability events such as financial crises.
Sustainable business
The Business School's expertise in sustainability issues is crucial for the future of businesses seeking to achieve a 'real economy' and build 'natural capital'. Business has a crucial role in responding to the challenge of the world's critical interdependencies: supporting economic activity that enhances rather than damages the environment, and that sustains livelihoods and well-being. The Business School works with a multi-disciplinary network of the University's sustainability and conservation experts, including the Cambridge Institute for Sustainability Leadership and the Cambridge Conservation Initiative. The Cambridge focus is on finding long-term solutions to the world's critical sustainability challenges and supporting business leadership for a sustainable world.
Philanthropic opportunities
Supporting studentships
Endowing professorships
Helping to extend the Business School in order to create even more research, education, entrepreneurship and innovation
Next steps
To support the Cambridge Judge Business School you can donate online. If you would like to discuss your philanthropic goals or explore opportunities for collaborative investment, please contact:
Make a gift now
Make a gift now to support Cambridge Judge Business School (CJBS) by credit or debit card, or set up a direct debit:
Or, find out about other ways to give.
Opportunities in 'Business and management'
This opportunity is part of